ROAD HOUSE KITCHEN
Legend has it that nothing complements a day of surfing like a hearty meal at the Beachy. Experience our updated menu and indulge in the scrumptious delights on offer. Guaranteed to satisfy your cravings and tantalize your taste buds, these dishes perfectly round off a sun-soaked Bondi day.
FOOD
DRINKS
Welcome to The Road House Kitchen at the Beach Road Hotel, where the essence of Bondi's gastronomy shines. We serve a delightful blend of comfort and gourmet food, all locally sourced and lovingly prepared. From succulent seafood to farm-to-table meats, each dish invites you to indulge in Bondi's culinary tapestry.
The Road House Kitchen isn't just about great food. It's a space echoing Bondi's spirit, featuring works from local artists and an atmosphere that encourages shared stories and laughter. Pair your meal with a local craft beer or a wine from our select list for a complete Bondi dining experience. At The Road House Kitchen, we make memories around the table.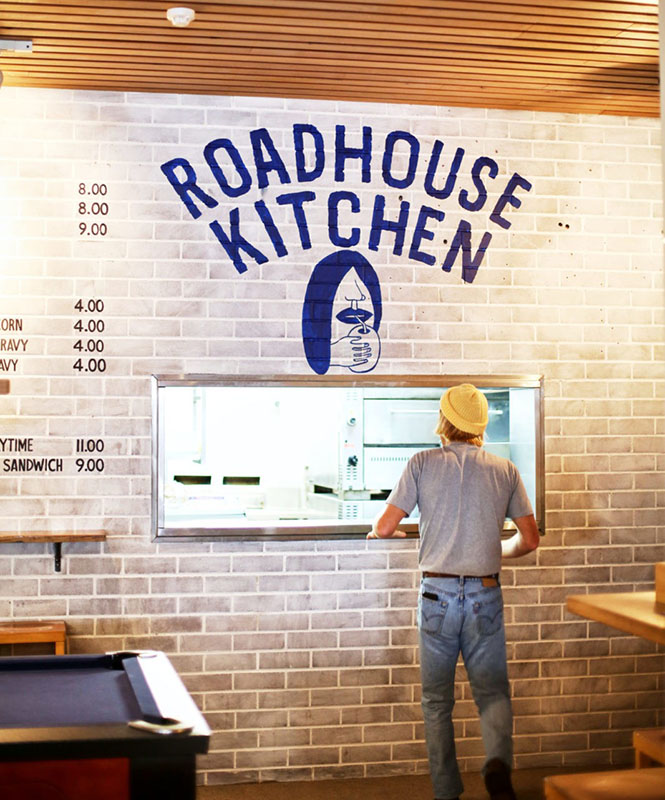 The perfect fresh & zesty seafood share plate. Char-grilled calamari tossed in fresh chilli, garlic, lemon & parsley served w/ Baja sauce.
It's a solid, hearty feed: tender steak, provolone, fresh tomato, rocket & caramelized onion nestled between slices of toasted focaccia, served with chips.
Perfectly seared Tasmanian salmon partners with charred asparagus spears, tomato & onion salad, chimichurri, crushed almonds & a lemon wedge to add a zesty touch.
This is proper homestyle cooking: tender chicken smothered in Napolitana sauce and melted cheddar, with your pick of chips and salad or mash and veg on the side.
Fresh Sashimi Salmon is the hero in this Summery delight! Served on a base of brown rice, shredded cabbage, edamame, cucumber, radish, kale, carrot, mint, pepitas & crushed almonds. Tossed through a miso & soy dressing & finally drizzled with wasabi mayo. A must-have!
It's a feast in a bun, bursting with slow-cooked smoked beef brisket, provolone, pickles, jalapeños, creamy slaw & chipotle aioli. Comes with chips!

"Being ANZAC day, it was a really busy day for hospitality, yet we had awesome service from Heidi.... "
Lizzy Liersch


"Would live there if I could..."
""Huge venue, kind staff, great range of drinks and food. Would live there if I could… oh wait you can!"
Hugo Ilencik

"Great place! Wide range of beer options, excellent vibe!"
Lucia Lopez

"Great for a beer, burger and pool!"
Natalia Monje
Stay in the loop with our thrilling newsletter! Never miss out on big-screen sports, daily specials, free pool Mondays, Trivia Tuesdays, Thursday Parties, Live Music Fridays, and electrifying DJ sets on Saturdays. Subscribe now!